How to Be a Pet-Friendly Employer
For many employees, their dogs and cats are beloved family members. Here are seven ways your company can show it cares.
By: Lisa Rabasca Roepe
February 22, 2017
The Benefits of Furry Friends
Mars Petcare, which owns the Banfield brand, has been allowing its employees to bring their dogs to work five days a week since 2007, DeSantis says. On a typical day, there are 900 employees and 30 to 40 dogs in the headquarters office.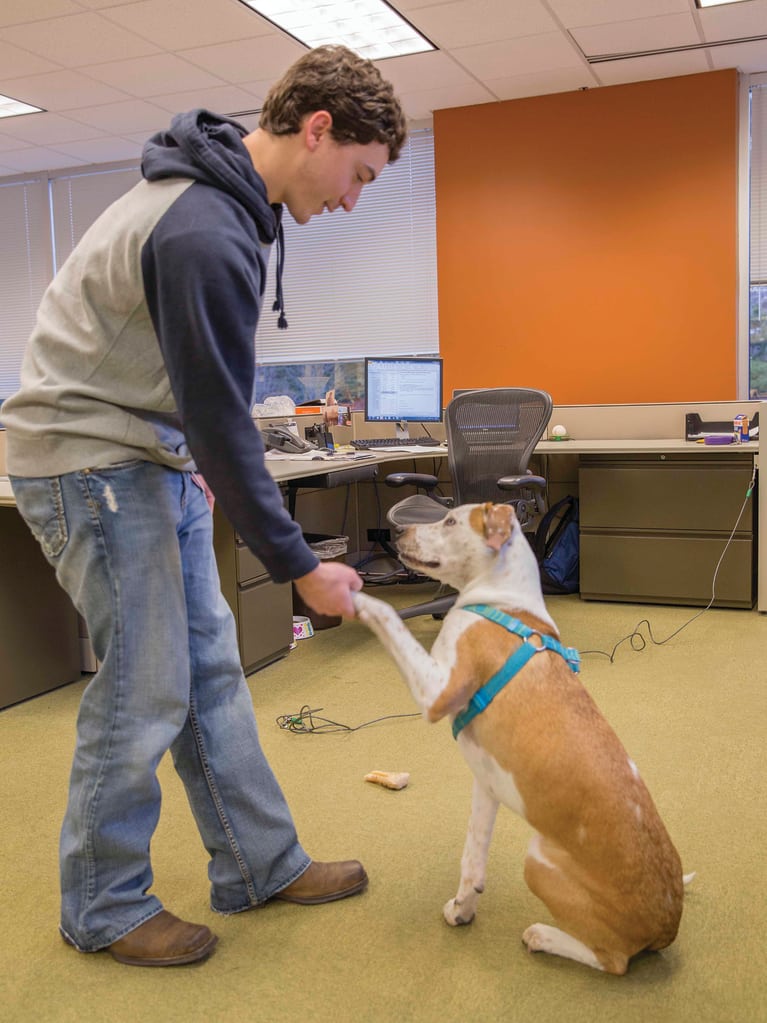 Copack scheduler Lee Wilson greets Mackenzie at the Mars Petcare office in Franklin, Tenn. Photograph courtesy of Mars Petcare.
From an employer's perspective, one of the biggest benefits of allowing pets in the workplace is related to retention. A 2016 study by Banfield Pet Hospital found that 83 percent of employees feel a greater sense of loyalty to companies with pet-friendly policies.
Moreover, more than half of workers at companies without such policies said they would be more likely to stay at their organization if it were to offer pet-related perks. The same survey found that 88 percent of the 1,006 employees surveyed, and 91 percent of 200 HR decision-makers, agreed that having pets at work improves morale.
​"What we hear is people will pick Mars over another employer because they can bring their dogs to work," DeSantis says. "We also hear that it is hard for associates to leave Mars because not every business allows pets in the office."
Dogs and cats can also bring people closer together. "They create unity among staff and opportunities for interaction among departments that might not otherwise have interacted," says Bill Page, HR director for Arkansas Business Publishing Group in Little Rock, Ark., which has 72 employees and four to five dogs at the office each day.
Shaping Pet Policies
Before creating any policy that involves bringing pets to the office, it's critical to get employees' input, says Patti Perez, an employment attorney with Ogletree Deakins.
"Everyone's opinion must be heard," she says. Are you willing to lose good employees because some don't want to work in a pet-friendly office? If the feedback is mixed, one way to gauge the potential impact on your culture is to try allowing pets one day per week or month.
"Bringing a dog to work is a privilege, not a right," says Robbie Eddison, a service desk manager at Softchoice Corp., an IT consulting firm based in Toronto. Eddison oversees her office's Dog Committee. Softchoice has allowed dogs on the premises for at least 20 years. More than 700 employees work in the Toronto office, and they share the space with about 115 dogs each day.
Sometimes smaller companies become pet-friendly by accident after one or two people start bringing their dogs to work and other employees follow suit. That's what happened at Arkansas Business Publishing Group five years ago, when CEO Olivia Farrell started bringing her Labrador retriever to the office every day, Page says.
"The generally tacit agreement [was] that your dog is friendly, housebroken, well-mannered and gets along well with others," Farrell says. The organization recently developed a short policy laying out the ground rules in writing.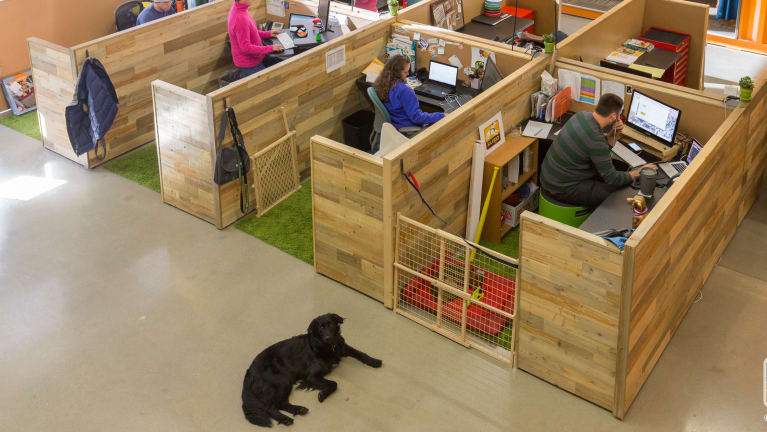 Initially, TINYpulse in Seattle—which creates employee engagement surveys—also lacked a written policy. Company leaders wanted to embrace the flexible, informal feel of a small startup. However, as the organization grew from 20 employees and two to three dogs to 60 workers with six to nine canines, the senior team realized it needed to provide clear guidelines and expectations. "It felt important, especially for non-dog owners," HR Director Eliza Polly says.
As Polly and her colleagues delved into the issues, they realized there was a lot more to consider than they initially thought. "The leadership team still laughs about how much time it spent on this policy," she says, noting that the topic was discussed at the group's regularly scheduled meetings for three consecutive weeks. "When you get senior leaders talking about how much a dog should weigh to be allowed to roam free, it feels like a silly detail," she says.
Actually, it's not. "We had a big Irish setter puppy coming in that liked to knock over garbage cans and get into everything," Polly says. "It was the sweetest dog, but he wanted to play and get attention. Not every dog is workplace-ready."
That's why TINYpulse's policy explicitly states that dogs weighing more than 25 pounds can't roam the building unattended and that dogs must not disturb any employees.
Each of Softchoice's 21 U.S. and eight Canadian offices sets its own rules and guidelines for its dogs-at-work program, including negotiating agreements with local landlords.
In the Toronto location, employees are required to have worked at the company for three months before they can apply to bring their dog in. When workers make the request, Eddison says, they need to note their department; the location of their desk; their dog's name, age, breed and gender; whether the dog has been fixed; whether it has had obedience training; and how often the pooch would come to work.
Employees must also get their manager's written permission and confirm that they have asked nearby co-workers if having a dog around would be OK. A manager can revoke an agreement at any time if he or she thinks the situation isn't working out, and people who aren't dog lovers or who are allergic can request to work in a dog-free zone that has its own entrance and exit and a separate HVAC system, Eddison says.
Many company policies also stipulate that pets need to be healthy, clean, and up-to-date on vaccinations and heartworm and flea treatments.
[SHRM members-only resource: ADA Reasonable Accommodation Policy: Service Animals]
Accommodating Service Animals
There are approximately 20,000 U.S. service dogs, according to the American Humane Association. These animals are trained to perform tasks to help people with disabilities, such as guiding employees who are blind or deaf.
Regardless of whether an office allows pets, service animals must be allowed to accompany a person with a disability, according to the Americans with Disabilities Act (ADA). That said, animals whose sole function is to provide comfort do not qualify as service animals under the ADA, although some state and local laws allow emotional support animals in the workplace.
Deciding whether to allow an employee to bring in a so-called comfort animal is not that different from making a reasonable accommodation, says Patti Perez, an employment attorney with Ogletree Deakins. Ask yourself these three questions to make the determination.
Is it reasonable?
A monkey or snake is unlikely to be considered a reasonable companion, but a small trained dog may be. Ask the employee to provide medical documentation that having a comfort animal is a valid accommodation for his or her condition.
​Would it be an effective solution?
Will the animal keep the employee from performing his or her essential functions? Perez knows of a case where a woman who pierced ears at a mall kiosk asked if she could do her work while holding a comfort dog. In this instance, the employer could make the case that the animal was interfering with the worker's effectiveness because many people likely wouldn't want their ears pierced by someone clutching a canine.
Is it an undue burden?
If an employee needs a comfort animal but the building lease won't allow it, for instance, it is probably not reasonable to expect the employer to move to make the accommodation.
Once Bitten
Dogs have bitten employees at Softchoice's Toronto office twice, Eddison says. "Biting is cause for an immediate expulsion for us," she says, adding that there is a three-strike policy for lesser complaints, which any employee can submit anonymously; most are related to barking, whimpering or playing with a squeaky toy.
The owner gets a warning when someone complains. A pup that accrues three strikes is not welcome in the office for six months to a year, although it may return on a trial basis if the owner can show a change in behavior, Eddison says.
TINYpulse's policy relies heavily on self-reporting. If an employee knows her dog barks too much or has had an accident, she is expected to report it, Polly says. The company has a three-strike rule for accidents and no tolerance for biting. "If a dog even bites someone once, they are not welcome back in the office," she says.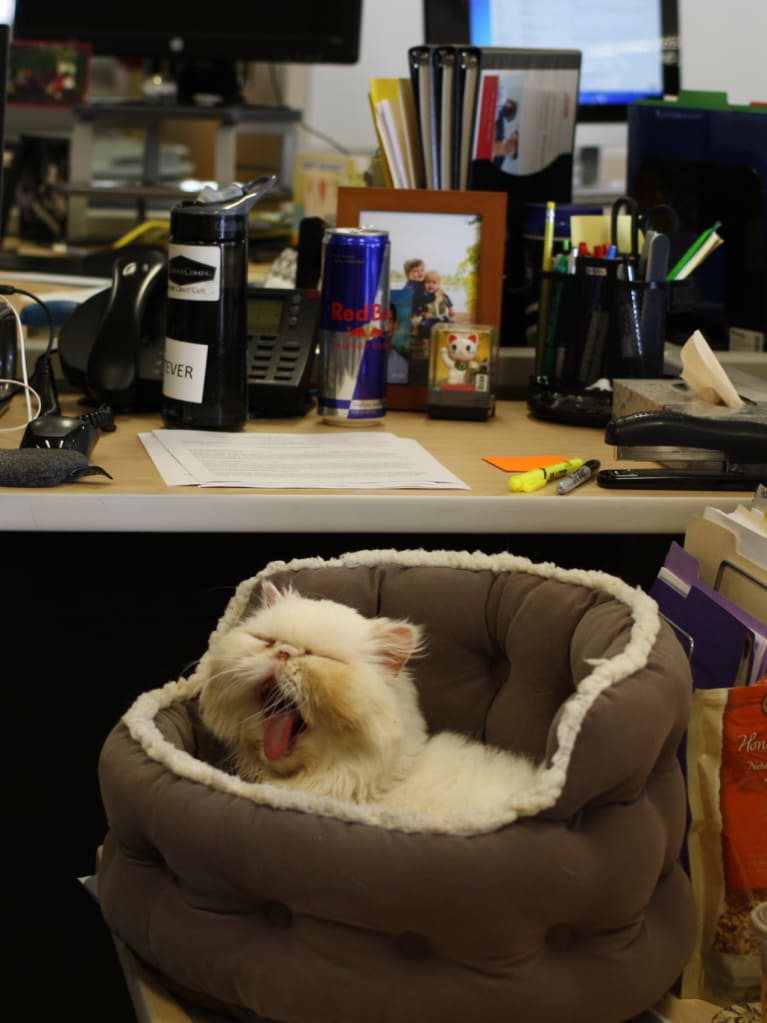 Employers can't assume that workers' compensation would cover a bite from a dog visiting the workplace, Perez says. That's because, to submit a claim, the employer must show that an injury was caused by the scope of the employee's work.
However, workers may be able to sue an employer for allowing dogs in the office, Perez says, although she isn't aware of any such cases. Employees might also have a case if two or more dogs get into a fight and one is injured.
Another tip: Make it very clear who is responsible for the dog at all times. Perez worked at a law firm where an attorney who brought her dog to work asked a co-worker to dog-sit on the days she needed to be in court—which made the co-worker less productive. Your policy should address what happens when someone has to go to meetings. Consider stipulating that workers can't bring their pets in on the days they have other scheduled events, Perez suggests.
Other Options
If allowing workers to bring their pets to work doesn't seem like a good option for your company, you're not alone. Although office animals are making headlines, most organizations don't allow them. According to the SHRM 2016 Employee Benefits research report, only 7 percent of employers permit pets in the workplace (compared with 8 percent in 2015 and 4 percent in 2014).
Fortunately, there are many other creative ways to show your support for furry friends, including the following:
Foster puppy (or kitty) love online. Because so many employees at Genentech, a San Francisco-based pharmaceutical company with 11,000 employees, were sharing dog photos and advice through e-mail, the company set up gDOGs, an employee resource group for dog owners, in 2014. More than 200 of Genentech's employees are members, says Andrew Villani, senior manager of corporate relations and co-founder of gDOGs. The group created an online community and schedules events to encourage members to socialize with their dogs after hours and on weekends.
Allow occasional visits. The Penny Hoarder, a personal finance company based in St. Petersburg, Fla., invites employees to bring their dogs into the office for occasional photo shoots, says Erin O'Neill, the organization's people and culture manager. It's important to communicate with staff ahead of time that dogs will be at the office, she says. "We have one staffer who is allergic, and she is super gracious about it and just stays out of the area," O'Neill says.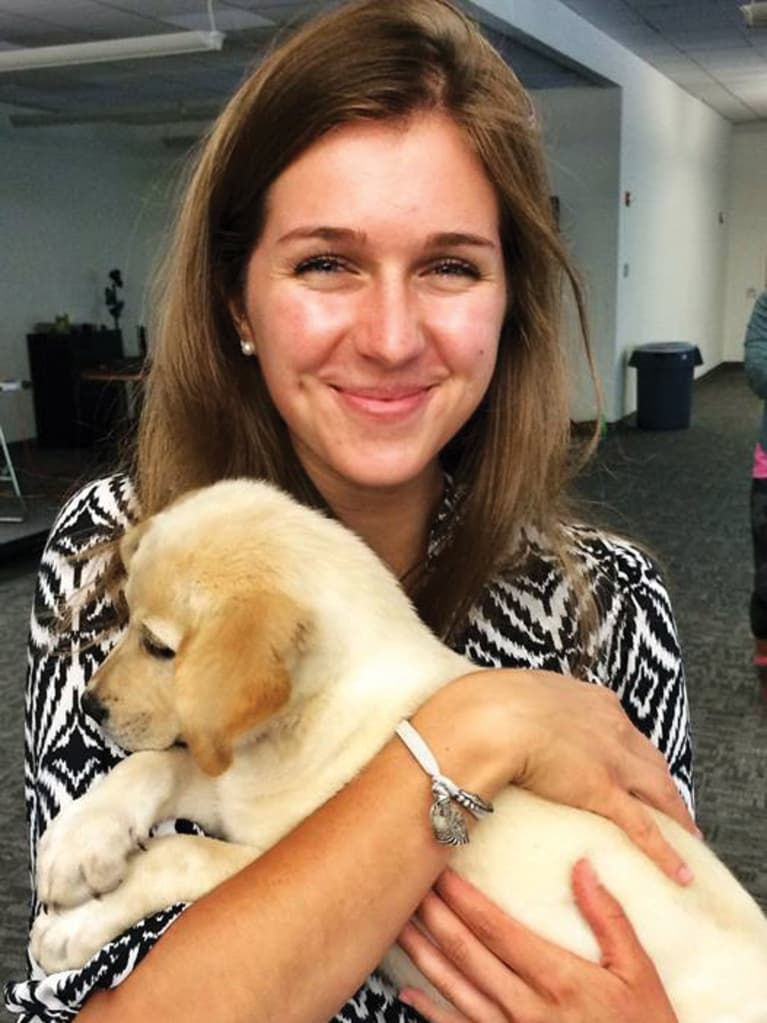 Schedule animal therapy days. Once a quarter, investment media business The Motley Fool in Alexandria, Va., sponsors an "animal therapy day." A staff member who lives on a farm brings in puppies or ducklings, says Chief Wellness Officer Samantha Whiteside. "I try to schedule them when the staff seems stressed-out," she says.
Other building tenants are also invited to participate, she says, because "it's a good way to create intentional collision points to build relationships." And the company sponsors an occasional "yappy hour"—a social event in which pets are welcome—at a nearby restaurant with an outdoor patio.
Arrange volunteer opportunities. Mars Petcare offers employee volunteer opportunities with the Nashville Humane Society, and staff deliver lunches and pet food to homebound seniors with pets.
Provide bereavement leave. San Francisco-based Kimpton Hotels & Restaurants is one of a few employers to provide three days of bereavement leave following the death of a pet. Mars Petcare gives one day.
Offer pet insurance. Pet-related coverage was offered by 36 percent of companies in 2015, and that number is expected to surge to 60 percent by 2018, according to a 2016 survey by Willis Towers Watson. The Motley Fool added pet insurance to its benefits package after an employee survey indicated demand.
Consider offering a coverage discount, says Chris Middleton, president of Pets Best Insurance. The typical markdown is 5 percent, he says, and even organizations with only 20 employees can offer this benefit affordably. Keep in mind, though, that each employee's premium will be different based on where he or she lives and the pet's species, breed and age, Middleton says.
Genentech offers a plan that covers dogs, cats, birds and exotic pets, Villani says. Employees can pay premiums through payroll deductions, and owners of multiple pets receive additional discounts. The company has also negotiated with several local doggie day care providers to offer employees a discount on the daily rate.
No matter which options you pursue, showing employees you care about their lives outside of work—including their pets—can give you an edge when it comes to recruiting, wellness and morale. And who doesn't want to be top dog?
Lisa Rabasca Roepe is a freelance writer based in Arlington, Va. 
Opening photograph courtesy of Trupanion.
Pet-Friendly Office Checklist
Experts at Trupanion, a Seattle-based pet medical insurance provider with a 1:2 pet-to-employee ratio (233 cats and dogs to 434 employees) offer this framework for creating a pet-friendly office.
Get executive buy-in. The CEO and senior management must agree to any pet-friendly policies.
Secure landlord approval. The Motley Fool can't permit daily visits from animals at its offices because the property owner says the ventilation system won't filter out all the dander and allergens, says Chief Wellness Officer Samantha Whiteside.
Create a policy. Clearly outline expectations, beginning by defining "pet-friendly," says Patti Perez, an employment attorney with Ogletree Deakins. Do you mean just dogs and cats? What about boa constrictors and ferrets?
Pet-proof your space. This may include incorporating baby gates or tethers and hiding electrical cords. When Trupanion redesigned its offices, it included gated cubicles so office dogs and cats could enjoy being off-leash while sitting near their owner, says Erich Wuhrman, the company's vice president of HR.
Communicate with employees. Let employees know if and when they can bring their pets to work. Some companies require employees to sign a written acknowledgment of the pet policy.
Was this article useful? SHRM offers thousands of tools, templates and other exclusive member benefits, including compliance updates, sample policies, HR expert advice, education discounts, a growing online member community and much more. Join/Renew Now and let SHRM help you work smarter.